Happy Friday folks. Well, it took me a day or two to tabulate all five votes from last week's poll but the results are finally ready. This week's question was, "How are you most likely to prepare your Pop-Tarts?" Here are the results: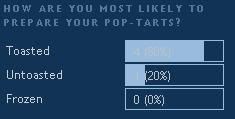 Toasted: 4
Untoasted: 1
Frozen: 0
Congratulations to toasted Pop-Tarts with 80% of the vote!
Thanks to all of you who voted. The next question will be up today.
If you have an idea for next week's poll, please feel free to comment on this post.
Cheers,
Jason